Turnaround Time
Order now and the order will be ready to ship on:



Standard Delivery
08/26/2022

RUSH Delivery*
08/23/2022



*rush charges added.


Spot vs. Process Color
Most logos are line art graphics and should be created in a vector based program such as Illustrator or Freehand. The logo below is an example of line art graphics. This was printed using spot color inks.
---

Photographic images should be created in a pixel based program such as Photoshop or Painter. These images are printed using process color inks. Process digital art requirements:

Because photographic images are much more complicated to reproduce, we have set a minimum quantity of 72 shirts per image for these types of graphics. Until we view your image we are unable to give you an exact estimate of costs. Send a low resolution version (72 dpi) of your image for us to quote.

To send art files for evaluation email to Artwork@ExceleronSports.com and reference that you need a Process Color quote.

We'll evaluate your art and give you an estimate of printing costs. It is helpful to know the color of the garments you'd like to print. The image below is an example of something done with process color printing: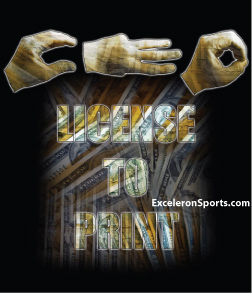 Email Link To Friend


Your Name:
Friend's Email: